About Us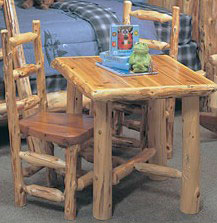 Our company is engaged in the production of unique, handmade log furniture.
Production technology is based on the traditional production of aged Canadian srubového furniture. For lovers of the natural wood furniture suited to the flat, house, cottage, log cabin and office.
Services
For your log timbered house and realize all the interior fittings in a style which belongs to dřevostavbám. And for your garden log garden furniture (tables, chairs, swings as well as garden log houses).
We are willing to also free to visit you and see, or focus areas for us-your log furniture.
Why furniture from us?
All our furniture is hand odkorněných pines. No trees are cut for the production of our furniture. Using mainly trees from thinnings, which are individually selected for their quality.
Each piece of wood is unique, as well as each piece of our furniture is unique and original.
Our log furniture will last for generations.
Production
The production of our furniture srubového use mainly pine, but also Olší and larch. Logging is carried out in winter because in winter the wood is less of starch and sugars and thus more resistant to pests dřevokazným.
Round first hand odkorní, the wood gets a natural appearance, further treated with a chemical impregnation dřevokazným against molds and fungi. After the wood dries.
Drying takes place naturally, for a period of one to five years, to ensure the highest quality, strength and precision trimmed wood.
Given that we use across the smaller diameter trees, some of the furniture may have cracks. These cracks are a natural part of srubového and furniture are caused by a drying process. Drying the logs shrinks longitudinally, laterally and radially around its core. Drying in a round of tension, which is released to cause cracks.